Gazelle Hotel, Kokopo
The people of Lihir, through MRL Capital Limited, have acquired 20 percent shareholding into Gazelle International Hotel, in Kokopo, East New Britain Province in 2012.
The hotel was opened in 2010 and is a joint venture between the country's largest superannuation fund, Nambawan Super Limited, the Airways Hotel group and the East New Britain Provincial Government. MRLC's buy into the 4 star hotel was through the purchase of 20,000 shares from the Airways Hotel Group. The purchase was made early last month.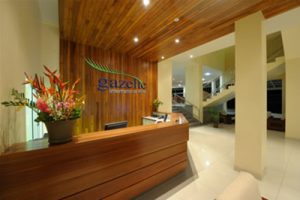 For MRLC, the purchase marks a significant milestone, as it paves the way for the firm into the country's tourism and hospitality industry. Gazelle International Hotel is the first international style hotel for East New Britain and sits on the site of the original residence of Queen Emma. The 52‐roomed hotel is minutes from Kokopo town, and sits overlooking Blanche Bay, the Duke of York Islands and New Ireland.
From its location above the Ralum Golf course, there are stunning views of Tavurvur, one of three active volcanoes in East New Britain. The rooms are fully air‐conditioned and all feature Juliet balconies for those who want a breath of fresh air. Amongst other features, they also have satellite TV, tea/coffee making facilities, IDD phones and internet access and 24 hour room service.
Gazelle International has been designed to suit business and leisure travellers with an exciting selection of venues for relaxation
or entertainment. The hotel offers separate conference facilities which can accommodate small gatherings, large meetings and conferences with breakout areas, banquets, special events and receptions. Emma's, the hotel's signature restaurant, named after Queen Emma, offers guests internationally acclaimed Western and Asian cuisines.
For those looking for a bit of fun and a perfect night out, the hotels' Club Coe is a perfect choice and offers patrons a full week of entertainment, while Chino's, the hotel's espresso lounge, provides the perfect atmosphere for a business meeting.